Line 6
 POD HD500X 




Line 6
 POD HD500X Guitar Multi-Effects Processor 
The POD HD500X is the ultimate tone palette, whether you want to re-create classics or go somewhere new with the ability to recall up to 512 totally different rigs-with changes to preamp type, power amp configuration, guitar type, polyphonic alt-tuning, effects chain and more. And thanks to HD technology, POD HD500X provides the depth, character and touch nuance to inspire your creativity in the studio or on stage. So if you've never experienced the flagship of the POD family, now's the time to check out POD HD500X.

World-Class HD Amps
From vintage classics to modern powerhouses, each HD amp delivers incredible sonic depth, character and touch nuance to inspire your playing-and that's just the beginning. Customize the tone and dynamic response of each HD amp with an extensive set of deep parameters including Sag, Bias, Bias Excursion, Hum and more.

100+ Studio and Stomp Effects
POD HD500X gives you over 100 studio and boutique stomp effects, so you can take your sound in any direction. Emulate classic signal chains with distortions, delays, mods, filters, reverbs and more, or discover entirely new sounds by mixing and matching up to eight simultaneous effects. You also get pro-grade, assignable footswitches and a built-in, die-cast expression pedal to control your effects in real time.

More Processing Power, More Creativity
With unparalleled flexibility and more processing power than anything in its class, POD HD500X is built for tone creation. To start, POD features dynamic DSP, so you have the freedom to stack the effects you want wherever you want them. Compared to its predecessor, POD HD500X lets you add even more effects to your signal chain. You can also mix and match HD amps, cabinets, mics and effects in virtually endless combinations. With 512 presets, you've got plenty of options for recalling your tones.

Sculpt Sounds with Dual Signal Paths
Legendary guitar tones are often created with more than one signal path. POD HD500X lets you create these complex, rich tones without the setup headaches of traditional dual-amp rigs. You can route your guitar through two completely independent paths-each with its own HD amp and effects chain, of course-or process two signals at once using the 1/4" guitar, 1/4" auxiliary or XLR mic inputs. So whether you want to configure elaborate signal chains for more traditional stereo amp setups, or create unique soundscapes, you've picked the right tool.

Assignable Footswitches and Rugged Construction
With POD HD500X, you get professional-grade footswitches with bright LED rings for at-a-glance operation. You can use them to enable or bypass amps and effects, or to select presets directly. If you want to get more creative, you can assign multiple amp and effects parameters to the expression pedal and morph between sounds-controlling up to 52 parameters in real time. The footswitches also control the built-in 48-second looper-an instrument unto itself. The bent-metal chassis and rugged construction make POD HD500X ideal for any stage.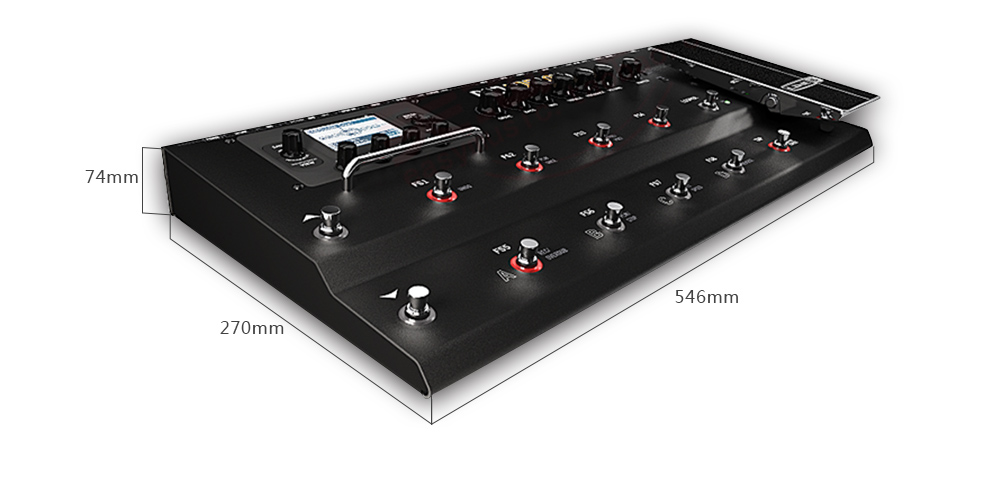 FEATURES

Extensive collection of award-winning HD amps for authentic tone and feel
100+ studio and stomp effects—use up to eight simultaneously
Selectable speaker cabinets and mics
Unparalleled flexibility to craft your tones: Dual signal paths, multiple routing optionso Dynamic DSP with more power for amps and effects and stereo FX loop can be inserted anywhere in the signal chain
Professional-grade footswitches with bright LED rings for at-a-glance operation
Comprehensive I/O includes USB 2.0, MIDI, S/PDIF, balanced XLR outputs, integrated mic preamp and more
Guitar input with variable impedance
Fully assignable MIDI controller—control external hardware and software via footswitches and expression pedal
L6 LINK connection for integration and control of DT-series amplifiers and StageSource series loudspeakers
VDI connection for integration and control of James Tyler Variax guitars
8 set lists containing 64 presets
512 user-writable preset locations
Assignable expression pedal controls amp and effect parameters
Integrated 48-second looper with dedicated footswitch
Built-in chromatic tuner
Tap-tempo footswitch
Professional-grade construction with bent metal chassis, chrome roll bar and die-cast expression pedal